The MOST Comprehensive Halftone Training Course in the Industry
Enroll in Mark Coudray's Halftone Mastery Course Today
Learn the Secrets to Printing Award Winning Process and SimProcess Work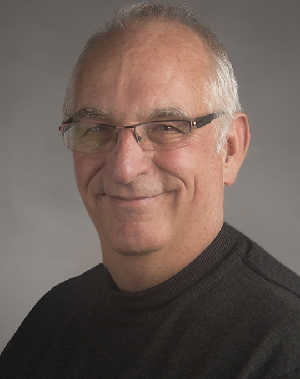 Mark A. Coudray
Founder, Advisor
Premium quality technical apparel screen printer. In addition to daily production, Serigraphics has served as an incubator for business practices and technical implementation for Coudray Growth Technologies since 1987.
Many of the developments created and proven at Coudray Serigraphics have become accepted industry practices today.
"Who Else Wants Access to the Secrets That Have Been Used to Win CMYK and SIM Process Awards Year After Year"
What Would Your Life Be Like If:
You had the confidence to take on any job
Every halftone job you did was perfect
It doesn't matter if the shirt is black or white
Clients seek you out & price doesn't matter
Your most profitable work is full color printing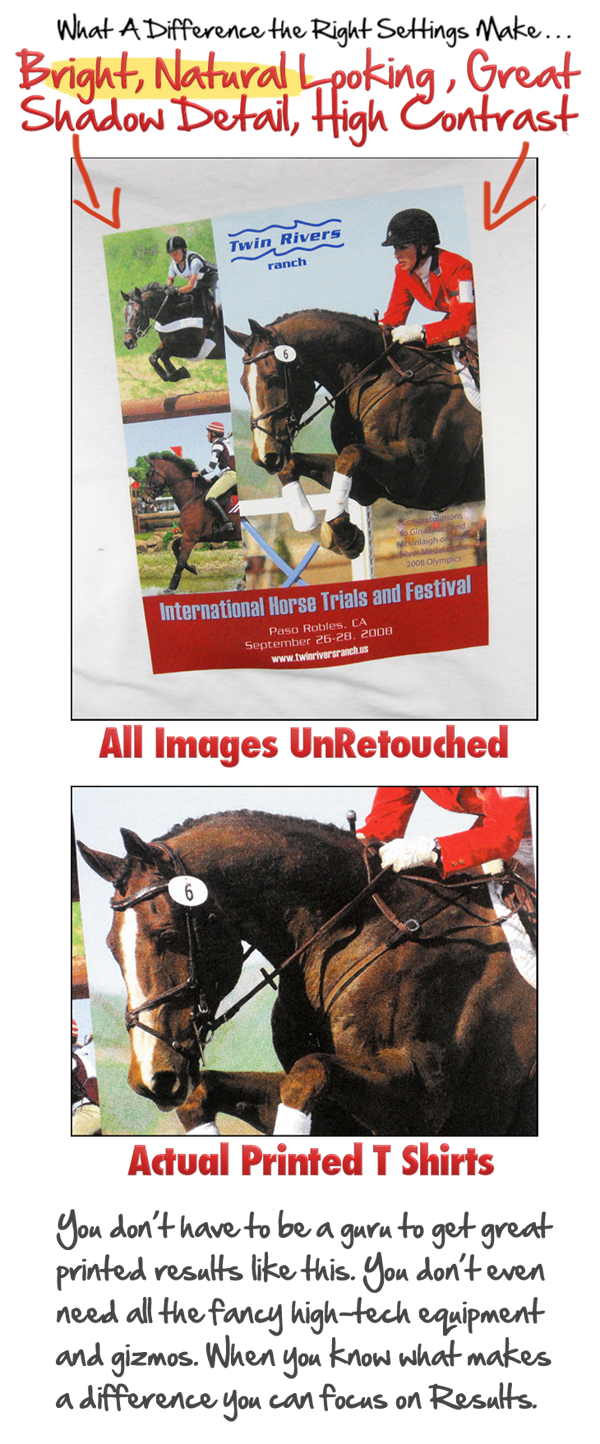 Everyone starts out struggling with halftone printing. The good news is, in just a few short weeks, you'll be cranking out great looking prints your customers will LOVE!
I Can't Wait to Learn How.. Thanks So Much For Your Course
I recommend The Halftone Mastery Course for anyone. If you are a beginner it would be wise to start the correct way and not have to break your bad habits later. If you are a self taught printer via books and forums (like me) this course will tie everything together and fill in the gaps. Whatever you put into this course you will see a profound return in your prints, production, and profits. Thank you Mark, my fear of full color prints on black shirts are finally gone!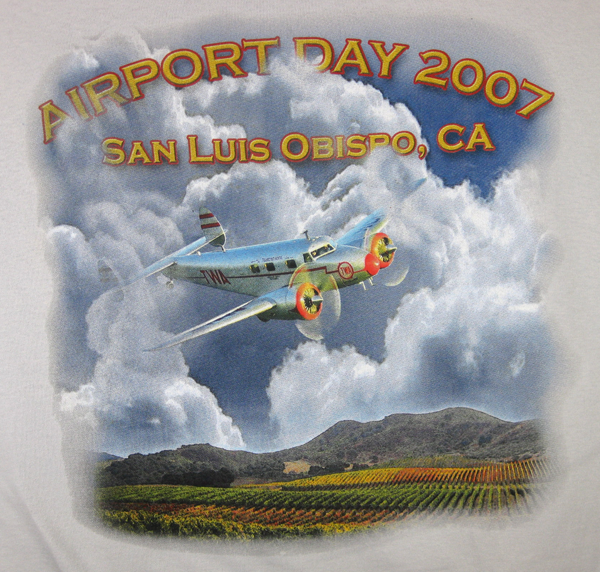 SimProcess 55lpi Wht + 6 colors Color Seps:Netseps.com Printing: Coudray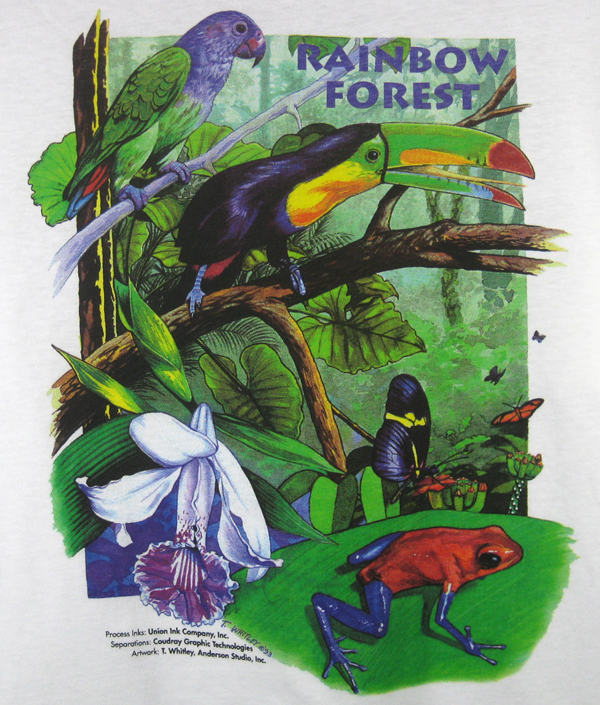 True 4cProcess 55lpi Union TruTone 1993, NO Spots Color Seps:Netseps.com Printing: Coudray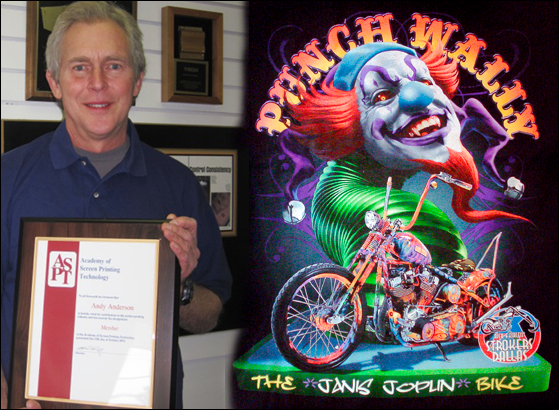 Andy Anderson with 2009 Golden Image Gold  Anderson Studios,Inc, Nashville, TN
We Have Been Directly Influenced by His Guidance, Knowledge, and Masterful Technical Skills
Mark's knowledge and abilities have helped turn around some of the biggest and best apparel companies in our industry. His course leaves no stone unturned and is an excellent value. I would say without any reservation he truly is the best and you'd be missing a great opportunity and making a big mistake if you don't take his course.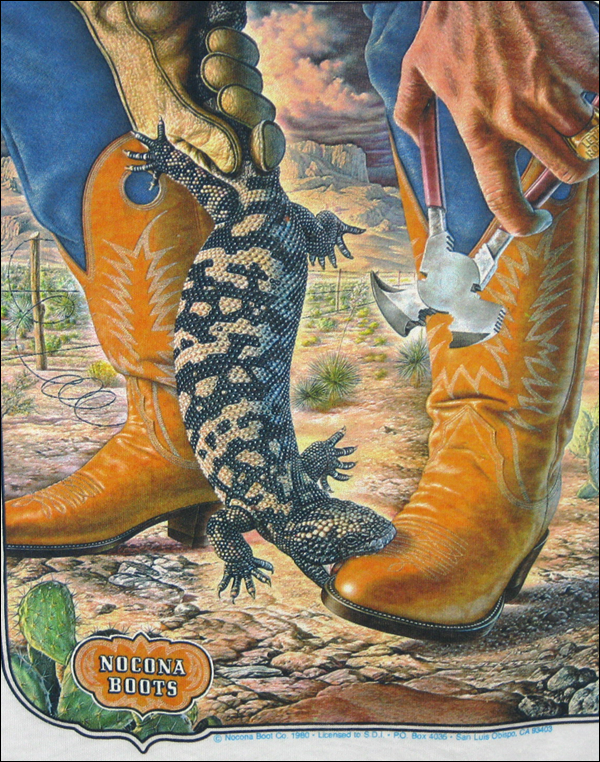 True CMYK 85 lpi No Spot Colors Wooden Frames 1980 Nocona Boot Co.   Printing: Coudray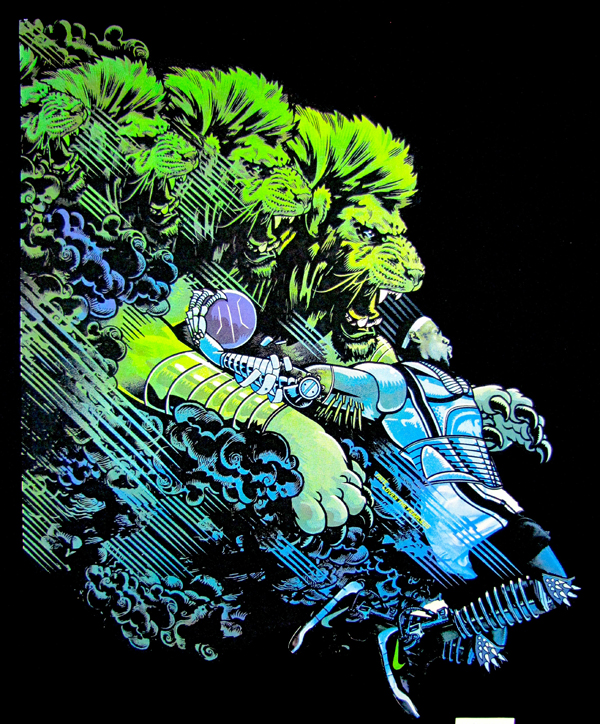 SIM Process on Blk   Ningbo Shenzhou Knitting Co.,LTD • Peoples Rep of China
Extremely Well Done and Done Well!!!
As I predicted from the beginning, the instructional information I have attained from the Halftone Mastery Course is an educational zenith of my entire 30-years of Screen Printing experience. This course went far beyond and above my expectations. Not only is it in depth and comprehensive course from the mathematics, science, optics and physics aspects of "how and why" Halftone Screen Printing works or not, you've taken it all the way from theory and brought it to my understanding for the real world and practical application.
Even though I am a 4 time Alumnus of your previous instructional courses from about 15 years ago, the technology in our industry has progressed rapidly and so have the computer and software applications and the world of digital color and communication. The information contained in the course truly unveils everything possibly imaginable associated with Screen Printing halftones and enables you to become a World-Class Halftone Screen Printer.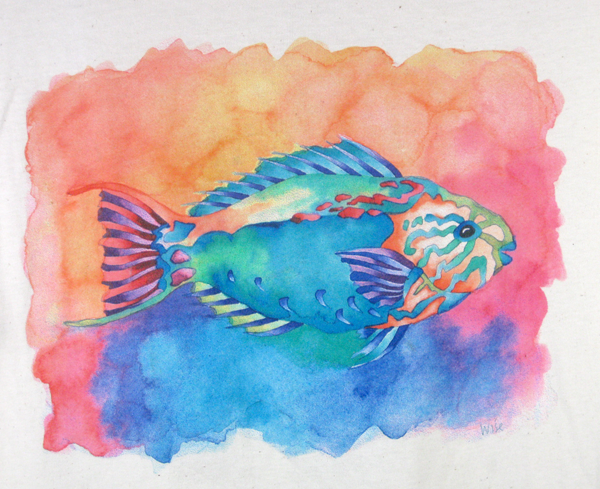 Expanded Gamut 7C Process (CMYK+RGB) 1995 Stochastic Dot   Color Seps:Netseps.com Printing: Coudray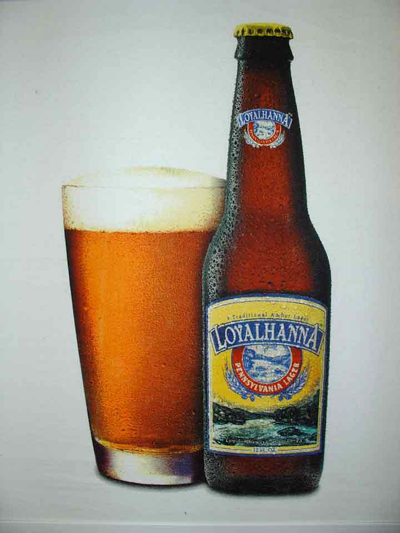 Off The Wall Graphics, Inc    Jeannette, PA
I Am Very Impressed With the Improvements at My Shop
My halftone printing was ok, but after just a few weeks of the Halftone Mastery Course, and a few questions answered via email my prints, especially on darks, are exceptionally better. I eagerly await the newest videos each week. I am looking forward to any new programs that you are planning to offer in the near future, please keep me at the top of your mailing list.

Getting to Know and see color
You can't print color or halftones unless you know how to see color and describe it. The vast majority of printers AND artists FAIL in this department. You'll learn how to quickly and easily see color and convert it to numbers that are meaningful to the computer. You'll be amazed at how easy this important lesson is.

Elements of Color Seperation Theory
You can't print great color unless you know how the separations are created. Take a peek behind the curtain and learn what MUST be in every color sep before you put ink in the screen. You'll come away with a much better understanding and appreciation of the software and seps you work with.

Seperation Color Set-Up
A lot has changed in the last couple years. CMYK is coming back strong again due to the rise of DTG. You'll learn how to set-up your files so the digital proof matches the DTG print and that matches the screen printed run. You'll also learn how to load the ink values based on the inks you are using, critical to great colors.

All About Halftones
This is a deep lesson that covers conventional and stochastic half-tones, dot shape, angle, frequency, angle sets, and more. You'll lean what the best combinations are for maximum color and control. You'll also lean what dot shapes to avoid and which ones work the best.

Mesh Technology
Mesh selection and tensioning are two of the critical foundations of great halftone printing. Learn why mesh is different even if it has the same thread count, what tensions will give you the best results, and where things go out of control.

Press SEt-Up
You can't just throw a set of halftone screens on the press and get good results. Proper calibration and registration are essential for good halftone results. You'll lean what you need to do to get your equipment in top printing form.

All about dot gain
Dot Gain is one of the two biggest areas all printers struggle with. It is the single biggest reason your images look dull, dark, and dead. Learn about the physical and optical dot gain and how to manage ANY amount of gain, whether on an auto press or manual printer.

All about moirÉ
Anyone who has EVER tried to print halftones has come across moirè. This is an extremely complex and mysterious subject and we go deep. You may never be able to fully eliminate moirè, but you'll have a whole range of ways to minimize and manage this beast.

Documenting
Job documentation is one of the things that separates the true pros from everyone else. While no one likes to spend time doing the paperwork, you'll quickly discover just how important this overlooked step of the process is. You'll learn exactly what you need to keep track of and why.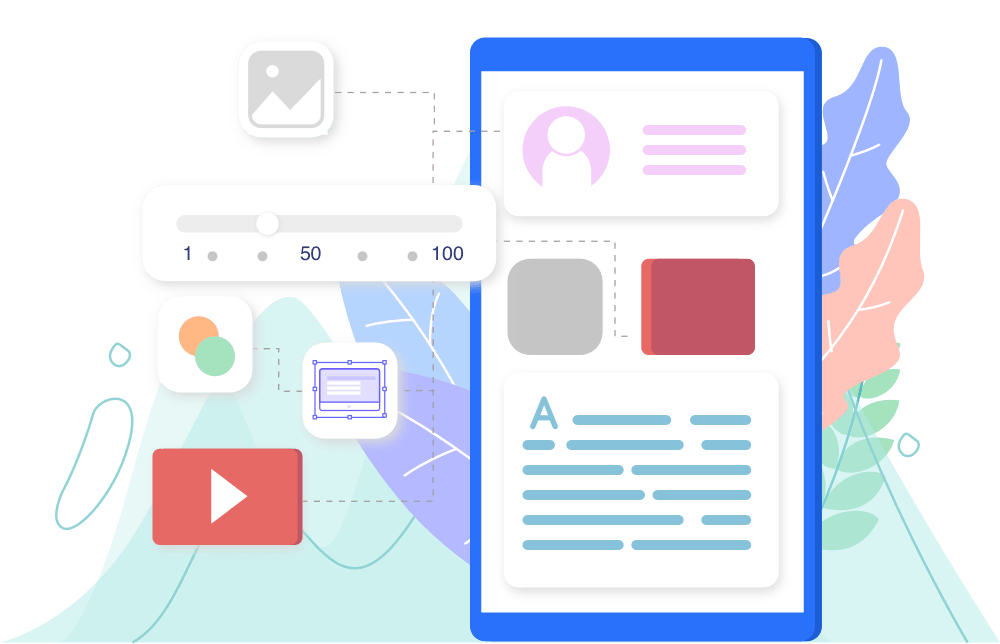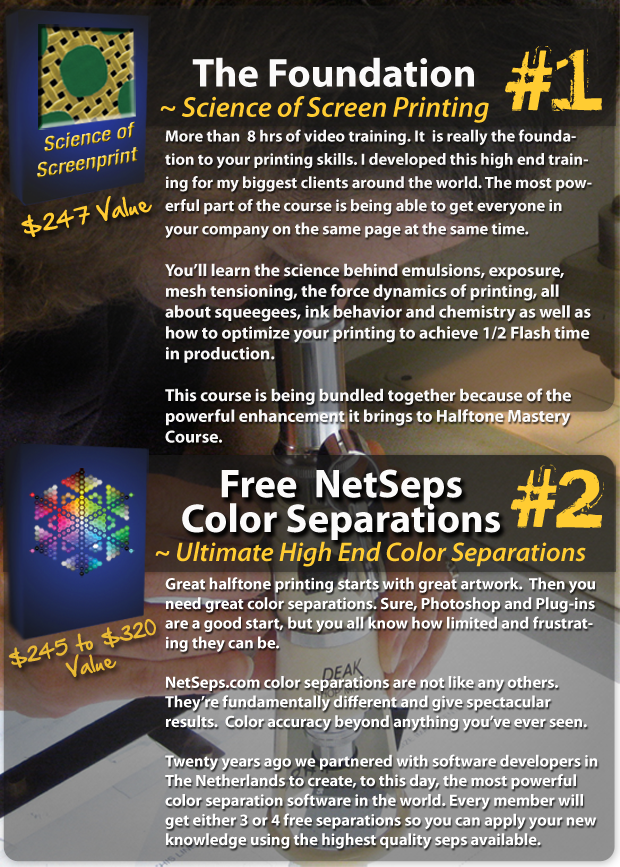 Just a Couple More Thoughts. . .
P.S.

I've added three levels to the program this time around. Even if you're just getting started with halftones and want great results right away, you're less than 30 days away from halftone heaven.
P.P.S.

You don't need super high tech equipment. You can achieve excellent results when you learn how to prep the art in the beginning. This is especially important for shops that get a lot of customer supplied images. We know because NetSeps has handled over 50,000 customer jobs, many of which had already failed on press.
P.P.P.S.

Even the most experienced printers, those with more than 20 yrs in the business will be amazed at the depth of the content. HMC is the ONLY place you can get this level of knowledge and application based on real world experience. No B.S.
~Mark A. Coudray